Donation Goal $1,000,000
.
.
.
.
.
.
.
.
.
$750,000
.
.
.
.
.

$625,000
.
.
.
.
.
.
.
$580,000
$545,000
$535,000
$500,000
.
.
.
.
.
.
.
.
.
.
.
.
.
.
$250,000
.

.
.
.
.
.
.
.
.
.
.
.
.
.
$35,000
$5,000
The Monument for Life is a project that relies entirely on donations from
individuals and businesses to fund its projects honoring the rescuers and the rescued. Our plan is to erect a building as a welcome center and to provide a visitor-friendly environment where everyone can learn about the Miracle Rescue and see all of the related items the foundation has been able to collect related to the event. We have determined that the cost of the building and the additional development of the Monument for Life grounds will be about $1,000,000 dollars. We can only do this with your help. Please be a part of the construction of this visitor's welcome and educational center.


You can donate by using the online donation button below, printing and mailing in the donation card available on this page, buying an engraved brick in the walkway to the rescue site or an engraved stone under the Red Oak tree. You can also sign up for a subscription donation which consists of a pledge which you can pay in 12 easy monthly installments with your credit card. All of these become part of the grand total shown on the left side of this page. As the total increases, the rescue capsule will move up the shaft from the bottom of the page. When it gets to the top, we will have reached our goal!

Help us raise the rescue capsule (at left) with your generous, tax-deductible donation to the Monument for Life. Your donation will live on at the site of a truly miraculous event, where common, everyday people did something extraordinary because they didn't believe it couldn't be done. That is how we are going to finish this building. The building is up and much of the inside is starting to take shape, let's finish the job!

You can donate securely online through PayPal
Simply push the button below to go to PayPal's secure servers. Fill in the amount you wish to donate, then choose whether you wish to pay by credit card or an existing PayPal account. It's easy, safe and tax-deductible!
Or, you can support the Monument for Life tribute to America's rescue workers by mail. Click here to open and print a donation card on your printer from a PDF file. Then fill out the donation card and mail it with your tax-deductible donation to:
The Quecreek Mine Rescue Foundation
140 Haupt Road
Somerset, PA 15501
If the card does not print properly, simply mail your donation
to the above address with your name and address.
PDF files require Adobe PDF reader.
Get it FREE here.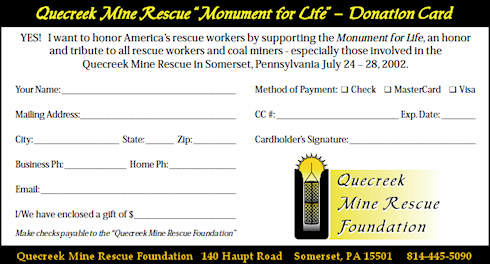 The Quecreek Mine Rescue Foundation is a non-profit, 501(c)(3) corporation.
Donations are tax deductable to the extent allowed by IRS regulations.