Quecreek Mine Rescue Site 20th Anniversary Celebration July 2022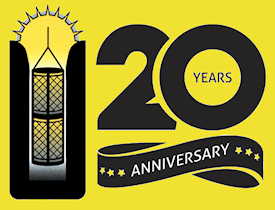 From July 24-28, 2002, millions worldwide watched and waited as rescuers worked around the clock to save nine men trapped in the flooded Quecreek mine in Lincoln Township, Somerset County. For 77 hours, rescuers faced set back after set back as they raced to bring all nine miners home alive. Miraculously, in the early morning hours of July 28, the miners were brought safely to the surface, one by one, "9 for 9."
This year, 2022, is the 20 year anniversary of the Miracle Rescue at the Quecreek Mine in Somerset County, Pennsylvania! We are planning several special events to celebrate the rescue of 9 coal miners in July of 2002. Among the events planned is a Race Night at Jennerstown Speedway on July 16th, a car cruise on July 17th at Casebeer Church next to the rescue site (See Car Cruise flyer), and events at the rescue site on July 22nd & 23rd. The Pittsburgh Pirates will host Miners' Night at PNC Park on July 24th. That night will feature the rescued miners in their own numbered Pirates jerseys throwing out the first pitch and launching free commemorative t-shirts into the crowd!
Here is the Official Schedule of Events for our 20th Anniversary Celebration of the Miracle Rescue of 9 trapped coal miners. We hope you will join us at one or more of these events!
Saturday July 16th; Miners night at Jennerstown Speedway. Former Governor Mark Schweiker in attendance.
Tribute to the Miners during intermission.
Sunday July 17th; Car Cruise at the Christ Casebeer Church, adjacent to the Rescue site.
Lot opens at 11am, cruise from 12 to 4pm, Food truck on site.
Friday July 22nd; Rescuer Day at the Rescue Site 10 am – 4 pm
Representatives from MSHA, DEP, and rescue teams, Drillers,
Fire, EMS, State Police, County Sherriff and Search and Rescue.
Food trucks here all day. The story of the rescue will be told every 90 minutes in the Education Building/Museum.
Saturday July 23rd Family Day at the Rescue Site, 10 am til 4 pm
Flag ceremony at 10 am by Pennsylvania State Police Honor Guard, Touch a truck, Touch a tractor, petting zoo, kids activities. The story of the rescue will be told every 90 minutes in the Education Building/Museum.
Sunday July 24th; Miners Day at PNC Park in Pittsburgh for the Pirates vs Marlins game, 1 pm game time.
Several sponsorship opportunities are available for the different events. Be sure to get in early to guarantee you can get your company featured on the shirts and other promotional materials. For more information on sponsorship, contact Bill Arnold at Bill@9for9.org. View sponsorship opportunities.


Return to Top of Page
Copyright © 2002 - 2022 - The Quecreek Mine Rescue Foundation. All rights reserved.
The official registration and financial information of Quecreek Mine Rescue Foundation may be obtained from the
Pennsylvania Department of State by calling toll free, within Pennsylvania, 1-800-732-0999.
Registration does not imply endorsement.